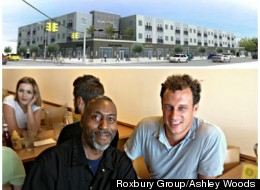 While it's true that Detroit, Michigan may be best known for its rappers (like Eminem) and its fledgling but once robust auto industry, it can now add vegetarian paradise to its résumé. The all new Topsoil vegan and vegetarian restaurant is set to open its doors this fall in downtown Detroit. The Detroit hot spot, Russell Street Deli will launch the new Topsoil, a quick service and carry out dining experience.
The new eatery is slated to open as a part of The Auburn, a multi-million dollar development currently under construction on the corner of Cass Avenue and Canfield Street.  The Auburn will be a multi-level facility with over 9,000 square feet of retail space.  58 rental units will be available on the second and third floors. The neighborhood development plans to serve locals as well as students from Wayne State University. Topsoil is the first restaurant to announce its opening at the new shopping center.
Topsoil hopes to reach out to Russell Street's regular patrons by offering another option for healthy lunches and dinners. Topsoil will serve a rotation of three daily sandwiches, a few salads, and wraps made to order. There will also be soups and hot plates to choose from.  Hot meals will include tofu curry, sweet and sour tempeh, and ratatouille. Topsoil will offer protein and whole foods like tempeh, tofu, and seitan. Topsoil's menu will be designed by Raymond Wagner, a Russell Street employee, and 21-year veteran of Ferndale, Michigan's Om Café.
The produce for the new restaurant will be sourced by Greening of Detroit, a non-profit committed to reforesting Detroit through planting and education programs, environmental leadership and advocacy, and community-building. Topsoil's predecessor, Russell Street Deli, offers communal tables that the owner hopes will encourage interaction between locals and non-locals alike.
Topsoil owner Ben Hall subscribes to the triple bottom line principle of food service, which measures success using three variables: profits, people, and the Earth. The restaurant is scheduled to open mid-November, 2012.
Image courtesy of Google