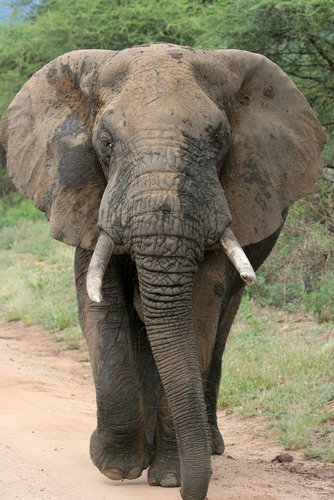 It may seem like these days no one pays much mind to elephant poaching in this country or internationally.  These days' animal rights activists seem to focus on ending cruel slaughter practices and saving dogs from being put down in animal shelters. It goes without saying that any type of action to end animal abuse is noteworthy and important. Sadly, there are so many inhumane and cruel practices around the world it is difficult to know which ones to lend an ear to. The general public probably thinks killing elephants for its precious and expensive ivory is a problem of the past and why wouldn't we? Fortunately, some people are looking out for these gentle giants, just recently activists called for a ban on China's still thriving industry. Elephant poaching hasn't been on the cover of newspapers or magazines and as a nation we tend to have an extremely short term memory for horrific things. has been over twenty years since the Convention on International Trade in Endangered Species secured a multinational agreement to ban the sale on international ivory.
Killing elephants and taking their ivory is hardly a 20th century phenomenon. Elephants have been pilfered for centuries not only for their precious and expensive ivory but their meat, hide and other parts used in traditional medicine around the world. Ivory has been used for various decorations such as ivory carvings, piano keys and even billiard balls.  Asian elephants are less prized for their ivory than African elephants because the Asian species do not have tusks on both their sexes like African elephants.
Hard data is difficult to come by in the case of elephant poaching due to its illegal nature. Some studies believe that 44-68% of Indian male elephant deaths are due to poaching. Poaching takes places in not just China and Africa but in many other Indian provinces like Cambodia, Laos, and Vietnam. Many of these countries have seen a drastic decrease in the elephant population. Poaching has a dramatic effect on not only the current population of the animals but on the potential numbers, a healthy and viable population is necessary for survival for the preceding generations of elephants and poaching immobilizes that.
According to the Guardian UK online, more ivory was seized last year by customs officials than any year prior to the 1989 ban on international ivory poaching. Conservationists have reached out to China to shut down its legal trade so that smugglers cannot use it to smuggle the forbidden organic mineral. While some are enraged over the illegal trades others are calling for more lax laws, Southern African states are pushing for the current ivory ban to be lifted in five years. Mary Rice of the Environmental Investigation Agency, which has studied the illegal trade in China wants "..to see a total ban on ivory sales, including domestic trade in China." The group that monitors the illegal killing of elephants, Monitoring the Illegal Killing of Elephants (MIKE) estimates that tens of thousands of animals have been killed in Africa alone this past year. Ivory is highly prized in countries like China, Japan and Thailand. Current market prices in China range from $750-7000 a kilogram depending on the quality.
In China, ivory from extinct mammoths are now being seized and sold. Due to environmental changes, these previously inaccessible materials are now available and because Siberian mammoths are extinct there is no limit on trading their tusks. Some conservationists want a total ban on the sale and trade of ivory but China is calling for a more flexible plan that includes the legal, monitored sale of ivory. Some African countries like South Africa, Botswana, Namibia and Zimbabwe are asking to be able to trade tusks that have been stored from elephants that died of natural causes. As it stands there is no definitive answer on how illegal poaching and ivory trading will be handled in the coming years. Unfortunately, many people are unaware of the harm caused to not only elephants but all the animals in the animal kingdom when elephants are killed. The most effective way to protect the animals now is by educating the public about the irreversible damage when elephants are killed, enforcement in countries that poach elephants, and improving monitoring systems.